The 6th Annual Devil's in the Details by Munk's Motors, held at Autometric Collision, April 2010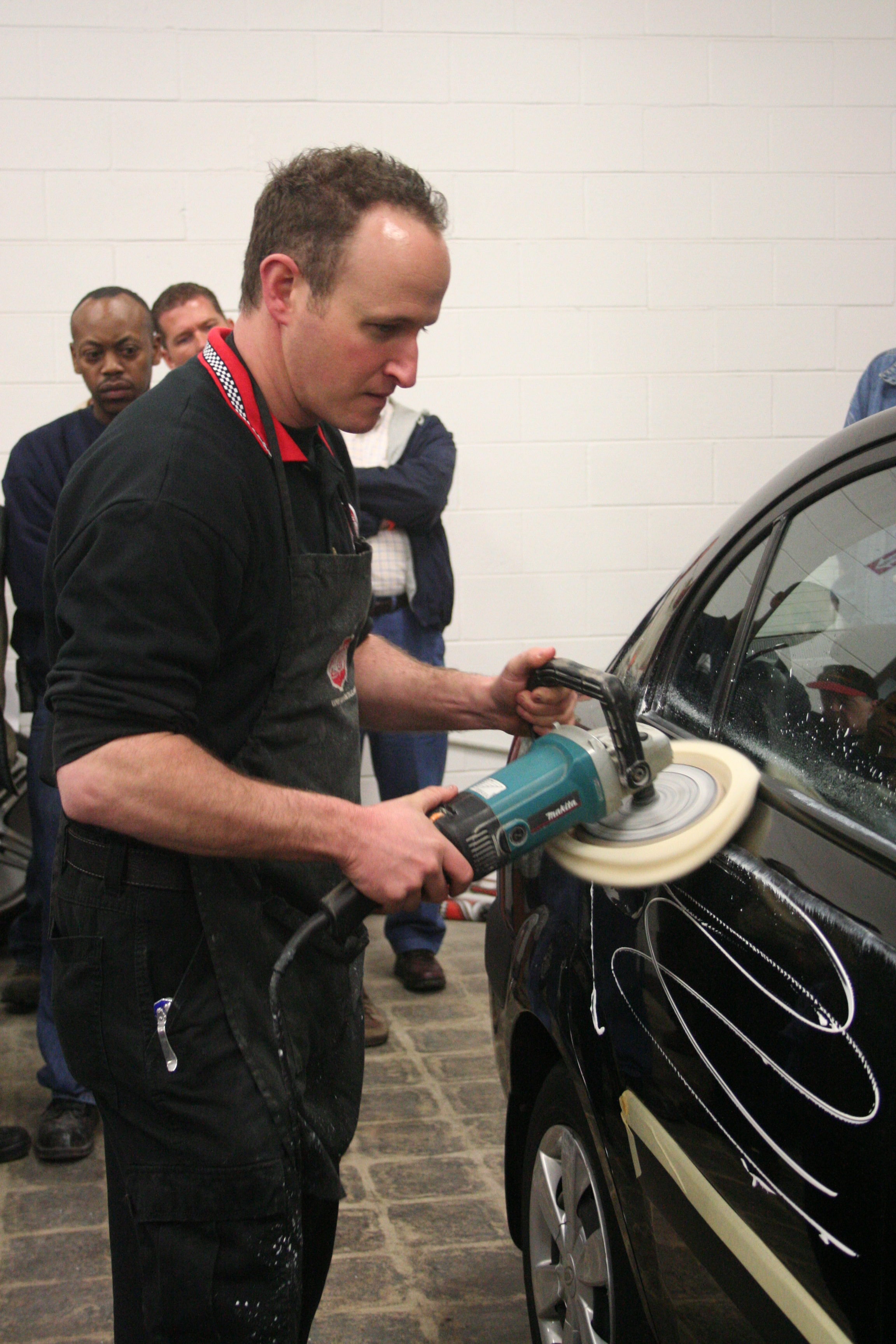 Despite gray skies, scattered rain showers, and temperatures in the 50s all day, the 6th annual Devil's in the Details auto detailing expo drew a record crowd on April 24th, 2010, resulting in the biggest and best DID to date.
This year, Munk's Motors of Waterford teamed with Autometric Collision to host the event at Autometric Collision's Troy facility. Over 350 people came, saw, and learned from more than a dozen experts in the fields of making vehicles look, sound, and handle their best.
Munk's Motors' display featured a stunning red 1962 Cabrio belonging to Eckhart Klump.Mike Mattei, a Munk's mechanic, was available to answer technical questions. Chris Braden was also available for technical questions, but spent most of the day acting as master of ceremonies for the large crowd.
Autometric Collision drew attention to its display with two Hooters Girls handing out pocket-sized bottles of hand sanitizer. The weather was too cold for them to wear their traditional orange shorts, but they smiled and posed for photos all day long in orange and black track suits.
Jason Roth from Dynamic Dents demonstrated his company's process of paintless dent removal. His assistant intentionally swung a rubber mallet down on the hood of a car, creating an obvious dent that Roth then proceeded to remove.
Mike Fender and his two assistants from John R Glass didn't give a formal demonstration so much as they actually worked all day long: John R Glass removed stone chips from attendees' cars upon request.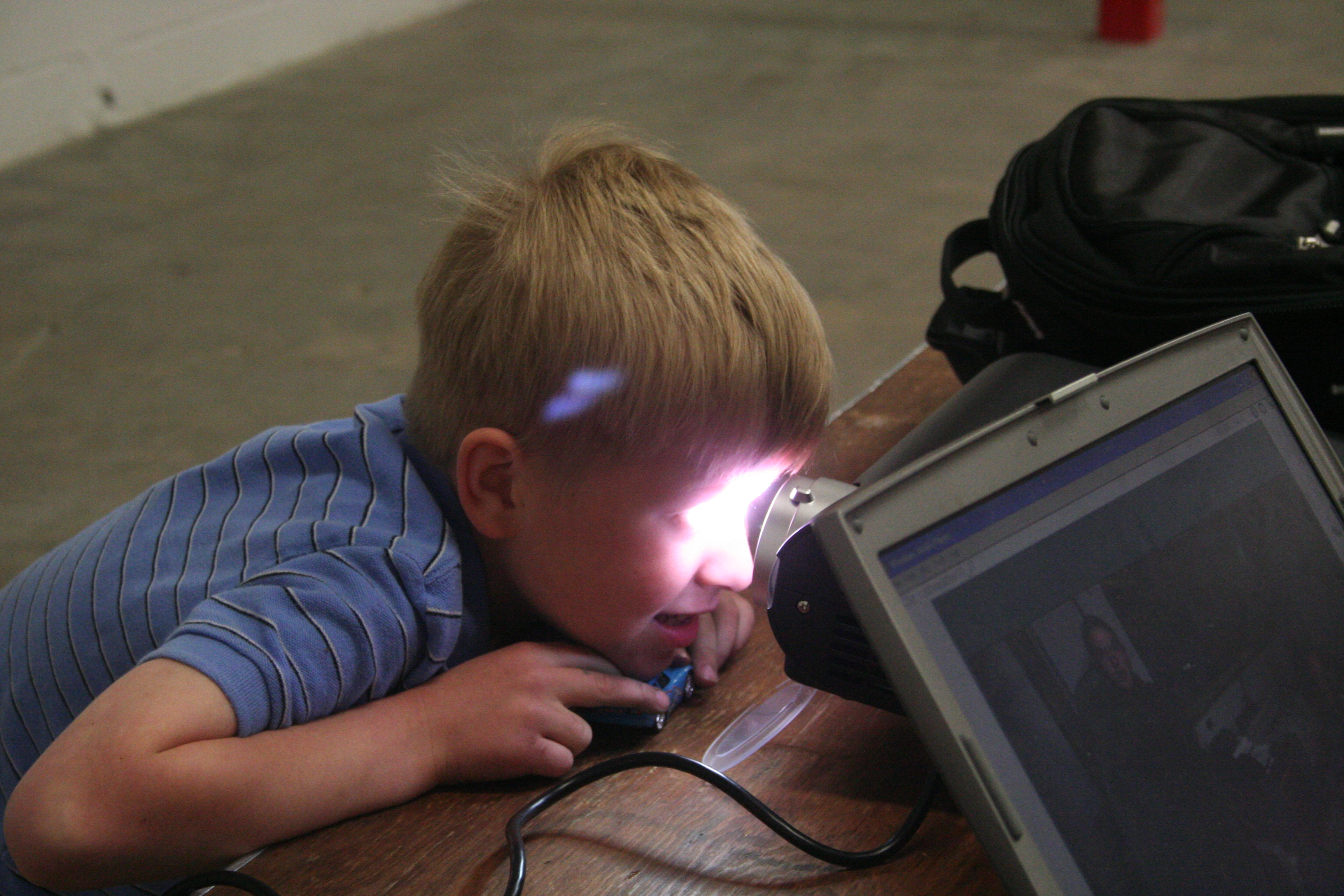 Paul's Auto & Boat Interiors brought a sewing machine and showed the techniques they use to repair, restore, and customize leather, vinyl, and other fabric interiors. Second-generation owner Tom Riemenschneider and longtime employee Dale had restored several cars belonging to Larry Smith, owner of Autometric Collision, and had two of them on hand as display cars: a Woody wagon and a 40s era Cadillac.
Matt Lifter, owner of Motor City AutoSpa, drew the crowd's interest with a Fisker Tramanto – number 15 of only 150 built. Lifter talked about the processes and chemicals he uses at his shop, and painstakingly removed scratches from the rear door of a black Kia all afternoon, The car had been driven repeatedly past bushes alongside a garage, so Lifter was able to leave one door as the "before" and work on the other door as the "after." Seeing the difference between the two doors leaves no doubt as to why Motor City AutoSpa was awarded "Best Auto Detailer" award on WDIV 4's "vote for the best".
Karmann Classics was on hand to answer questions about maintenance and restoration of convertible tops. Their Zambezi-green Karmann Ghia display car had a personality all its own.
If you ever considered having the windows in your car, home, or RV tinted, Kristan Garrett of Windows by Kristan was on hand to demonstrate the process and answer questions. She cut the pieces of Solar Guard and applied them to the windows of a Honda.
At the Mickey Shorr display, expert Bob Foster and a Kenwood representative answered questions about sound and navigation systems especially related to high-end or restored vintage cars. Ever wonder how to integrate a GPS into the instrument panel of a classic 911? Foster was there to point you in the right direction.
Eric Pasteiner of AutoZone Hobbies sold hard-to-find books, DVDs, magazines and collectibles. He also chatted about upcoming car-enthusiast events hosted at his shop in Birmingham. Pasteiner welcomes all enthusiasts – with a direct invitation to SEMPCA members – to his shop on Woodward for Caffeine, Cars, and Croissants on Saturday mornings, 8am-10am.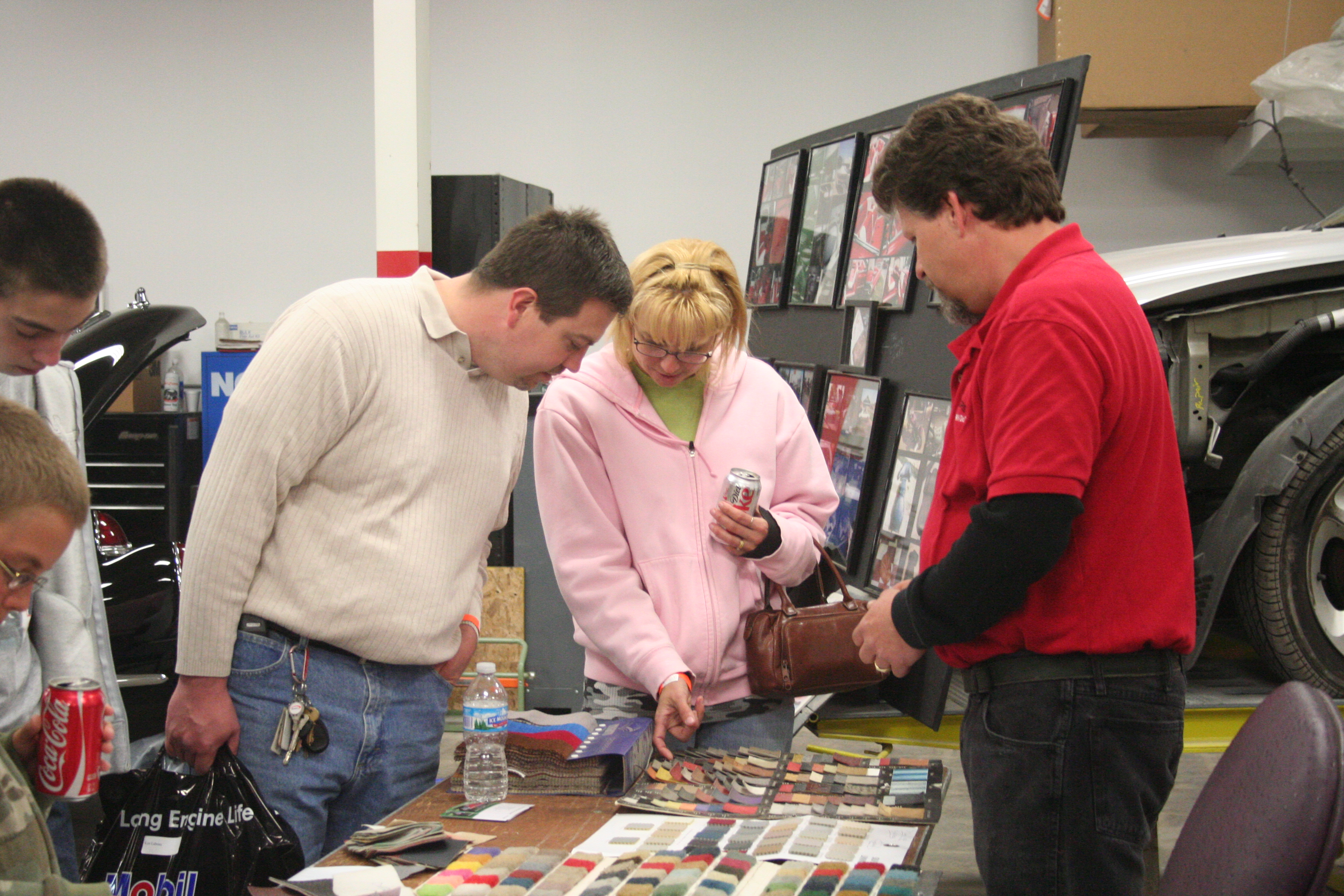 To truly take your car to the next level, Alloy Wheel Repair was on hand to answer questions. Their mobile repair truck will meet you wherever you want to have the work done.
Clayton McCracken from Mobil 1 presented at lunchtime on the properties and benefits of synthentic oil for high-performance engines. Afterwards he entertained questions for more than 45 minutes.
Concours gurus Fred Young, Bob Amano, and Bruce Gearns talked about what judges look for at concours events, while Gary and Pat Ambrus ran the Porsche Club Goodie Store. The Goodie Store, located near Young's Guard's Red Carerra, became the main gathering point for SEMPCA members.
The Mercedes Benz Club also had a booth. Pete Williams, president of the International Stars section, was available to answer questions.
Lunch was provided by Porsche Club member John Jason and his catering company Dream Cuisine, and also by National Coney Island. Mouth-watering smells wafted into the building from Jason's grill, making everyone hungry. By the end of the day the crowd had consumed 450 hamburgers and 350 hot dogs.
About a dozen members of the MINI Cooper Club came. MINIs like to flock together: every time someone left the show car parking lot, the MINI owners scrambled to fill the gap until eventually all of the MINIs were in a row.
This year saw the best door prizes to date, including gift certificates from Autometric Collision, Dynamic Dents, John R Glass, Somerset GMC Buick; Kruse & Muer Restaurants. We also gave away merchandise from Mobil 1, Stoner, the Mercedes Club, Bavarian Motors, and ArmorAll.
If you missed out on this year's festivities, you missed an informative expo! Keep an eye out for event listings in the newsletter next spring for the date of the 6th annual Devil's in the Details. If you take pride in a well-kept car, and you appreciate the satisfaction of having done the work yourself, or if you're just looking for a reason to hang out with other enthusiasts early in the spring driving season, Devil's in the Details is for you!