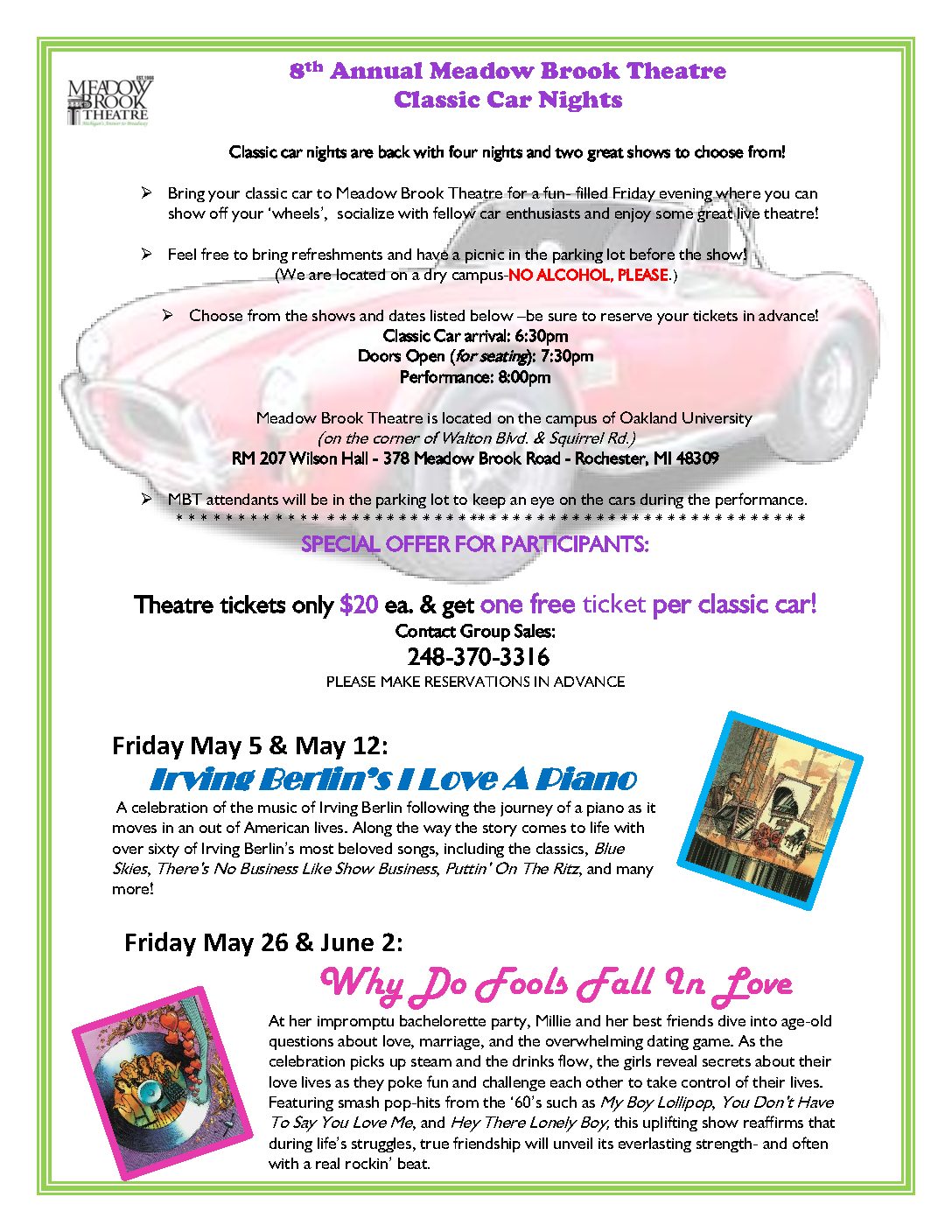 Bring your classic car to Meadow Brook Theatre for a fun- filled Friday evening where you can show off your 'wheels', socialize with fellow car enthusiasts and enjoy some great live theatre!
Feel free to bring refreshments and have a picnic in the parking lot before the show!
(We are located on a dry campus-NO ALCOHOL, PLEASE.)
Choose from the shows and dates listed below –be sure to reserve your tickets in advance!
Classic Car arrival: 6:30pm
Doors Open (for seating): 7:30pm
Performance: 8:00pm
Meadow Brook Theatre is located on the campus of Oakland University (on the corner of Walton Blvd. & Squirrel Rd.)
RM 207 Wilson Hall – 378 Meadow Brook Road – Rochester, MI 48309
MBT attendants will be in the parking lot to keep an eye on the cars during the performance.
Theatre tickets only $20 ea. & get one free ticket per classic car!
Contact Group Sales:
248-370-3316
PLEASE MAKE RESERVATIONS IN ADVANCE
Friday May 5 & May 12:
Irving Berlin's I Love A Piano
A celebration of the music of Irving Berlin following the journey of a piano as it moves in an out of American lives. Along the way the story comes to life with over sixty of Irving Berlin's most beloved songs, including the classics, Blue Skies, There's No Business Like Show Business, Puttin' On The Ritz, and many more!
Friday May 26 & June 2:
Why Do Fools Fall In Love
At her impromptu bachelorette party, Millie and her best friends dive into age-old questions about love, marriage, and the overwhelming dating game. As the celebration picks up steam and the drinks flow, the girls reveal secrets about their love lives as they poke fun and challenge each other to take control of their lives. Featuring smash pop-hits from the '60's such as My Boy Lollipop, You Don't Have To Say You Love Me, and Hey There Lonely Boy, this uplifting show reaffirms that during life's struggles, true friendship will unveil its everlasting strength- and often with a real rockin' beat.
THIS IS NOT A CAR SHOW, JUST A GOOD TIME FOR CLASSIC CARS!